These poems are dedicated to all the  wonderful dogs i've owned that have went on to Doggie heaven ....

HEAVEN'S Doggy door

My best friend closed his eyes last night,

  As his head was in my hand .

The doctors said he was in pain,

  And it was hard for him to stand .

The thoughts that scurried through my head,

  As i cradled him in my arms.

Were of his younger puppy years,

  And Oh ... His many charms.

Today there is no gentle nudge

With an intense i love you gaze,

Only a heart thats filled with tears

Remembering our joy filled days .

But an angel just appeared to me ,

  And she said,"you should cry no more "

GOD also loves our canina friends,

He's installed a 'doggy door'!!!

A DOGS PLEA................

Treat me kindly , my beloved friend for no heart in the world is more greatful for kindness than the loving heart of me .

Do not break my spirit with a stick for though tho i should lick your hand between blows, your patience and understanding will more quickly teach me

the thing you would have me learn

Speak to me often , for your words are the worlds sweetest music, as you must know by  by the fierce wagging of my tail when your footstep falls

upon my waiting ear ...

Please take me inside when  it is cold  and wet ,for i am a domesticated animal, no longer wild and untamed ,I ask no greater glory than the privilege of laying at your feet by the warmth of the hearth ....

Keep my pan filled with water for  i can not tell you when i suffer thirst...

Feed me good food that i may stay well, to romp and play and do your bidding , to walk by your side and stand ready ,willing  and able to protest you with my life, should you be in any danger.....

And, my friend, when i grow very old, and no longer enjoy good health, hearing and sight, do not make heroic efforts to keep me going. I am not having any fun. Please see that my trusting life is taken gently with you by my side .

I shall leave this earth knowing with the last breath i draw that my fate was always safest in your hands.................................

                                         Author Unknown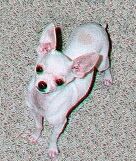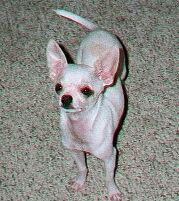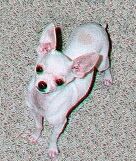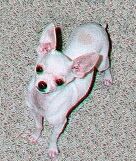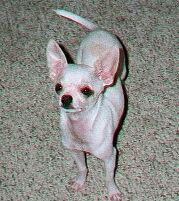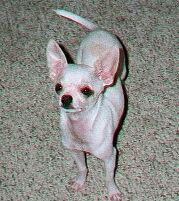 Pictured at the left is Magic, He died about 15 years ago. He was really a  wonderful lil boy.  The dogs on this page are also gone but not forgotten................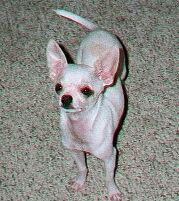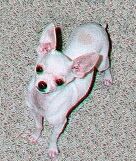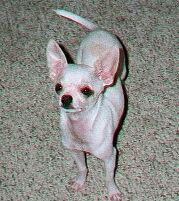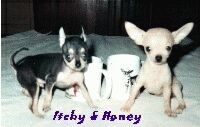 Doggie Angels

Some where in heaven

A doggie waits for me

His tail will wag with excite

when Jesus sets me free

Free to follow my puppies

to their great home in the sky

No wants or cares or worries

In that sweet by and by .

All dogs go to heaven

of this I'm greatly sure.

For god bless all the little  doggies

that go thru heavens door

Here on earth they are our loyal friends

so trusting and so true .

And in heaven they are angels

Waiting faithfully for you !!







Sue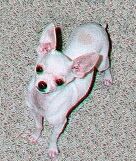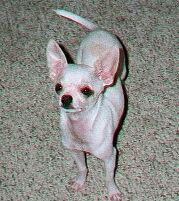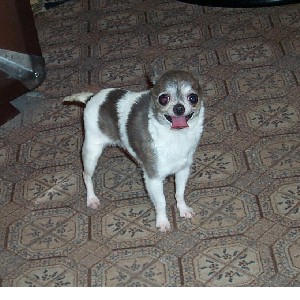 SPARKLES 8/5/96--6/3/02

This is our darling Sparkles,

We lost her 6/3/2002.

She will be sadly missed by everyone that knew her.

She was so tiny and  everyone loved her that met her sadly the tinies many times do not have a long life .

TINY"S IN HEAVEN

The tiny's that are in heaven

are special  and loved.

They are tiny angels

Sent from above .

Their time here was small

but loved and  true

God made the tinys to be loved by me and you .

That word TEACUP" means life

may be short .

So don't ask for it without knowing it's  worth .

Teacup means problems,and

care that abounds,

Accidents can happen when

know ones around .

So remember the tinys are cute

as can be.

But asking for them can mean

a short time with thee

So enjoy each day.

Until God takes them home.

For tinys in heaven sit by God's

Holy throne.

                              by

                                Sue

TEARS FOR MY CHI"S

Sometimes late at night

when i'm all alone

I cry for the little one's

That Jesus  took home

The question i ask

is for Gods ears alone

Are my chi's beside you in heaven

the ones you called home

I cry when i think

of each darling chi

and oh how i wish

they were still here with me

But each  little  chihuahua

brought joy and sunshine

for the their short  time here

time i called them mine .

Now  my tears are falling

because they had to go  .

But the angels in heaven

how they  love them so .

When God takes me home

How happy i'll be

Greeted at the pearly gates

By my beloved Chi's.

Tears that fall then

with a smile and such pride.

For  then i will know

God lets Chi's inside .

*Written by  Sue*

For all the beloved Chi's

That have crossed the  rainbow bridge .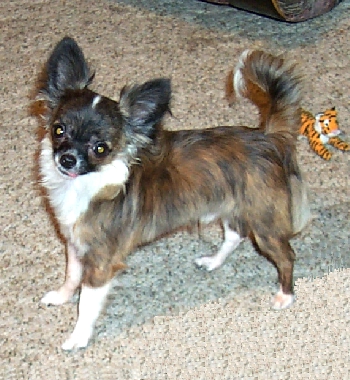 We Lost our Darling Brat Right before Christmas, He will be greatly Missed by every one that loved him .

MISSED EVERY DAY,NEVER FORGTTEN .

.

.Brats Poem

God gave me a special gift

So cute and smart and small

A bundle of fur and  fluff

Only 6 inches tall

With  a furry coat

Of brindle and of white

He thought he was

A big tough  mighty mite

He was my constant shadow

Following where i  went

My tiny little brat man

He was heaven sent

But his time here was a short while

And with his life he brought a  smile

But God needed and angel puppy so

To that Glory place he did go

I will miss my brat dog

But Heaven needs him more

And when i'm called up yonder

He'll be waiting by that golden door

Once again he'll be my shadow

Only now with  silver wings

For only God can Give and take

Such special tiny things

Written for Brat by Sue .

Hello,

Welcome to the part of  my site that is even hard for me to work on , you see if you have  loved and  lost a beloved chihuahua's or any  faithful  animal friend you will understnd how hard it is when they pass. Its very hard to let go of the ones that have shown you such love .

Thats what this page is for   if you have  lost a faithful friend then i'm sure you , like i will shed a tear when you read this page , but memories never die . and that what this page is for sturring up memories ,because with memories they are with us always , Sue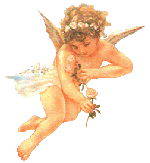 WE ASK WHY .......?

When tiny puppies pass away

We have to cry our tears and say

Why dear Lord a pup so young,

When its tiny life had just begun

The only answer i  know of

Is the Good Lord needed an angel above

One with a wagging tail and happy barking sound

Thats the only  answer that i have  found .

Puppy angels they must be

And God needed them more than me

Hard as it is i miss their love

But God needed puppy angels above .

So tiny pups with angel wings

Wait  up there for you and me

And someday together we will be

for puppy angels never die

and now they have  wings to fly.

                                 For all the puppies that never had long lives ,,,   Missed  by all ..

                                             Sue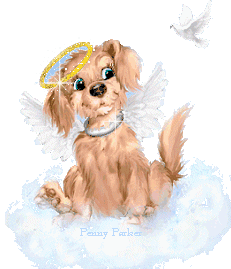 ON THE STREETS OF HEAVEN

WALK MY FAITHFUL FRIEND

HE WAS ONLY  ELEVEN

I WAS WITH HIM TO THE END

HIS TIME ON EARTH WAS SMALL

BUT HE DID A VERY BIG PART

HIS LOVE AND UNDERSTANDING

TOUCHED MANY A HUMANS HEART

HE LOVED WHEN IT WAS NEEDED

HE WATCHED WHEN IT WAS CALLED

HIS FAITHFULNESS WAS ALWAYS

TO ME HE WAS 10 FEET TALL

HE WAS A TINY PUPPY

SO FEW YEARS AGO

NOW GOD NEEDED HIM IN HEAVEN

SO HE REALLY HAD TO GO .

DOG TIME HERE IS TO SHORT

TO THIS WE ALL AGREE

BUT THERE IS A CHIHUAHUA

UP IN HEAVEN,WAITING THERE FOR ME .

ONE DAY WE WALK THOSE PEARLY STREET

MY LITTLE BUDDY AND I

IN A PLACE WHERE THEIR IS HAPPINESS

AND WE WILL NEVER DIE

THEIR ARE NO YEARS IN HEAVEN

NO WANTS OR HURTS OR FEARS

ONLY HAPPY PUPPY CUDDLES

AND  LICKY PUPPY CHEERS

SO PASSING NOW IS LONELY

BUT SOMEDAY I SHALL SEE

MY  DOG UP IN HEAVEN

FOR HES WAITING THERE FOR ME

WRITTEN IN MEMORY OF ALL THE WONDERFUL DOGS I HAVE KNOWN ,    SUE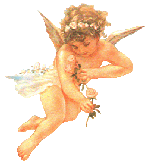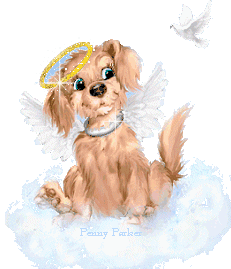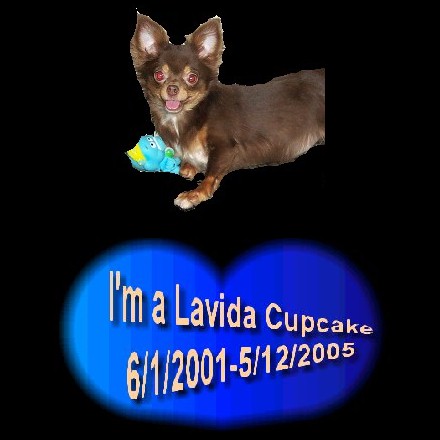 Why Does God need puppie angels

When i need them here on  earth

Why does he take one so young

So soon after their birth

I love my dear puppie's so

Right from the very start .

And when God decides he needs one home

It breaks my very heart .

We work to keep them healthy

and happy all the day

And them when least expected

God takes one away ..

I never will understand it

I  can't even try

BUt God knows what  he's doing

Up in the sweet  by and by

So, So long sweet puppy angel

Until we meet again

For  in the scheme  of life

Somewhere their is a plan

And puppies will be  waiting

At heavens pearly gate

So for now  my puppy angels

Just   be patient and for me  you'll wait .

Written by sue . At the  passing of Tiny longfellow who  tried so hard to live ...............8/24/2007---11/23/2007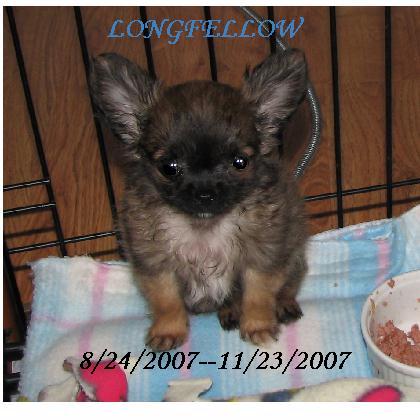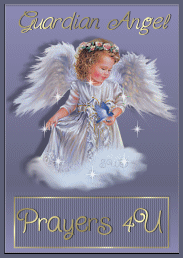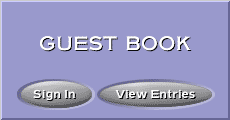 If you enjoyed viewing this page  Please sign my  guest book and let me know ..I miss everyone of  my  Fur kids  , and  this page is  made in  their memory .

GONE BUT NEVER FORGOTTEN .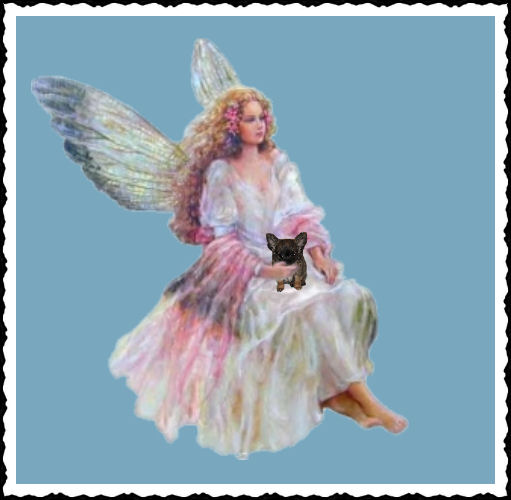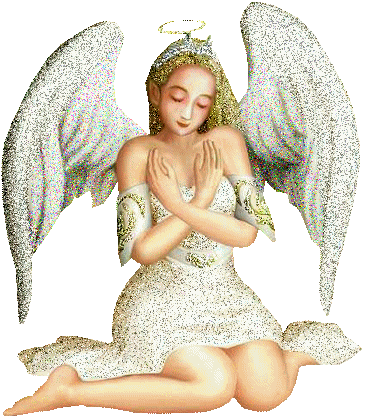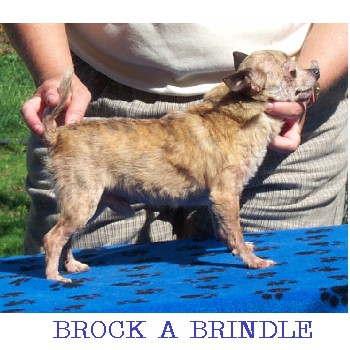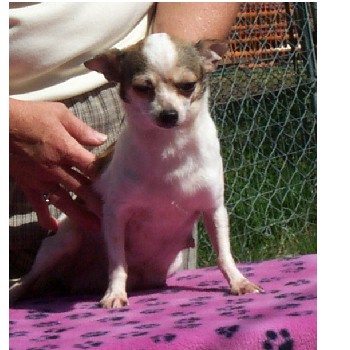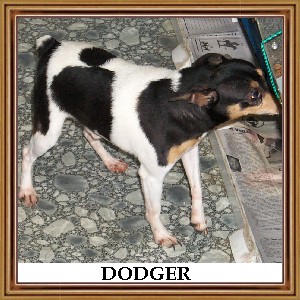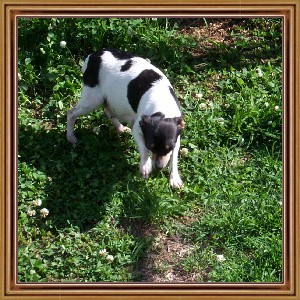 SOME DAY

We only hope that some day

When stars are shining bright

The dogs we loved here on earth

In Heaven we reunite

We see them Running quickly

to be right by our side

On Soft white satin wings

They seem to  swiftly glide

We know no pain and sadness

Or suffering as below .

And now they are here waiting .

Just like our  hearts told us so ...

Written for all the fur babies i have loved through all these years , That are now fur angels ..............Sue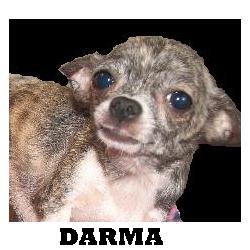 ONE DAY AT A TIME SWEET JESUS

THATS ALL I"M ASKING OF YOU <

I ASK FOR MY SAKE,PLEASE LET ME TAKE

ONE DAY AT A TIME .......................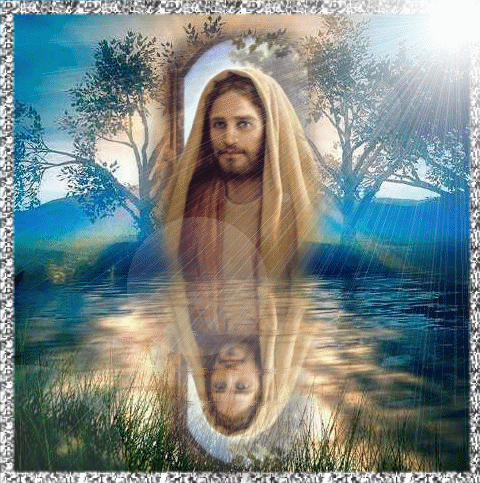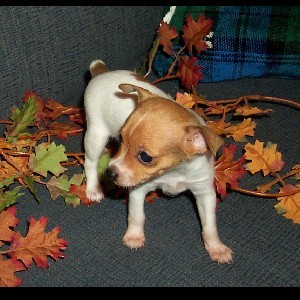 Argus was Stolen from my handlers back yard , We will never know if he was loved and cared for , all we can hope is they wanted him badly enough to give him a good life .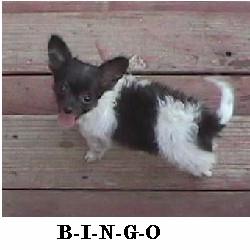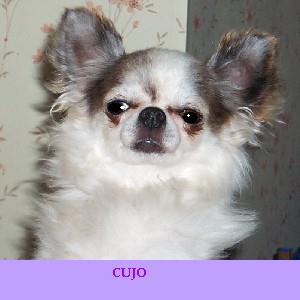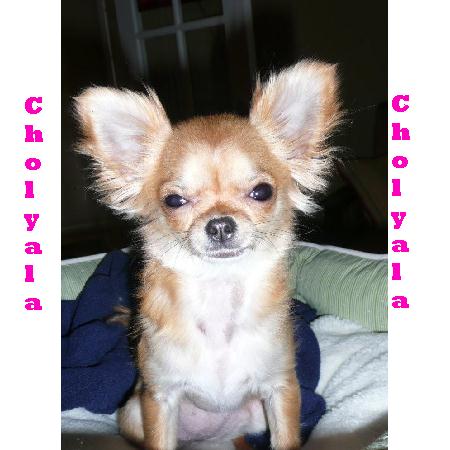 Forever in the heart's of those who loved her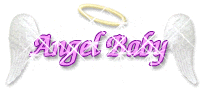 One day..............

One day you see

they'll be back with me

for they wait above

Saving their love

Pups and  adults

that knew  me down here

With wagging tail's

wait again to be near ..

The love that i have

for this speical breed

will last for eternity

and never receid

WE love them endless

for they are so dear .

that waiting is worth it

just to be near .

So when i'm gone

please think of me

Happy in heaven

With all of my chi's

Written with love by Sue ...

Please be kind ""don't Steal" if there is something you would like just ask  .........Sue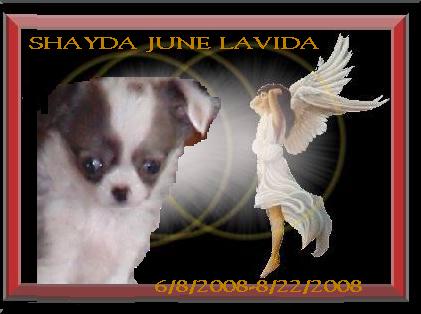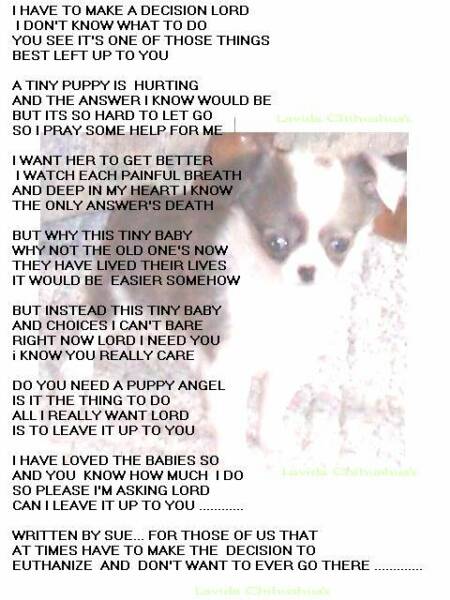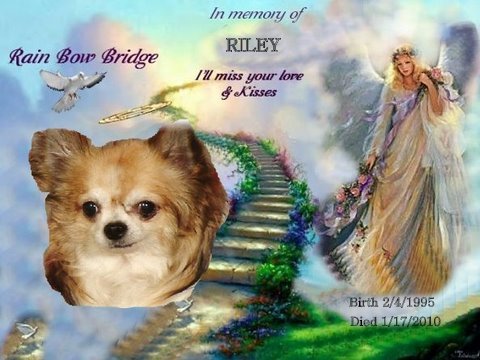 Today the sun has set .

on a friendship that was blessed

My old friend Riley

Your in heaven now to rest ..

You lived a grand old life ..

I  love a much loved friend .

But you were ever faithful

Right up to the end

We'll miss your happy tail wag

Your little bunny hope .

And  most of all the love

That never seemed to stop .

You loved me when I scolded

You loved me  when I cried

Now my love is never ending

Even though you died

I will never forget you ever

you'll always be in my heart

Even though for a time now

We will be apart ...

Some day old friend  I'll see you

Someday we'll meet again

Thank you my darling Riley

For always being my friend ...

Written by sue  ...........For a very Special friend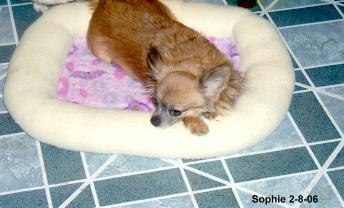 Sophia Passed 10/2009 she was 10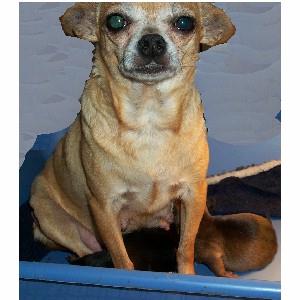 Mollie , you will be  missed my sweet old lady  ...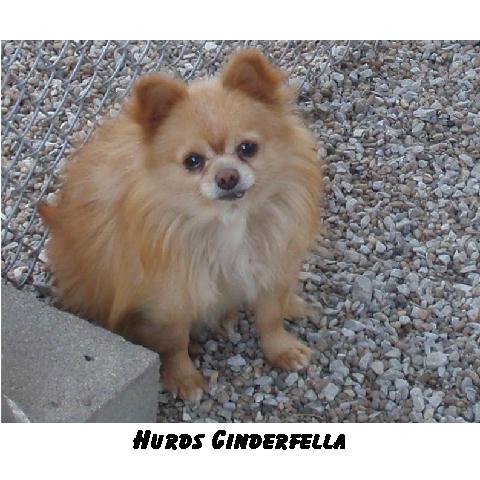 "CHUBBERS"  I'll miss your happy face  ....... RIP  my Friend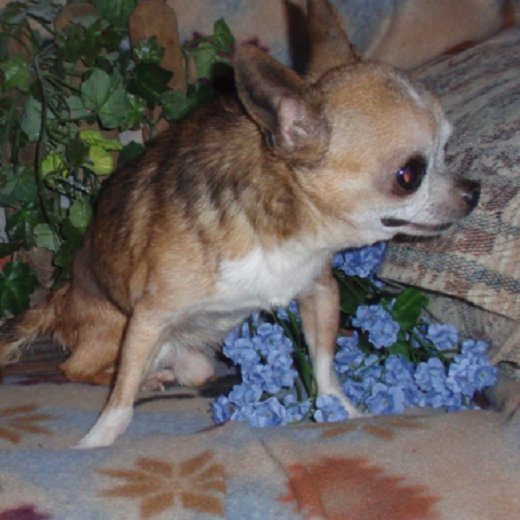 CH TEXAS COWBOY  of RD's

Until  we meet again my old friend ..............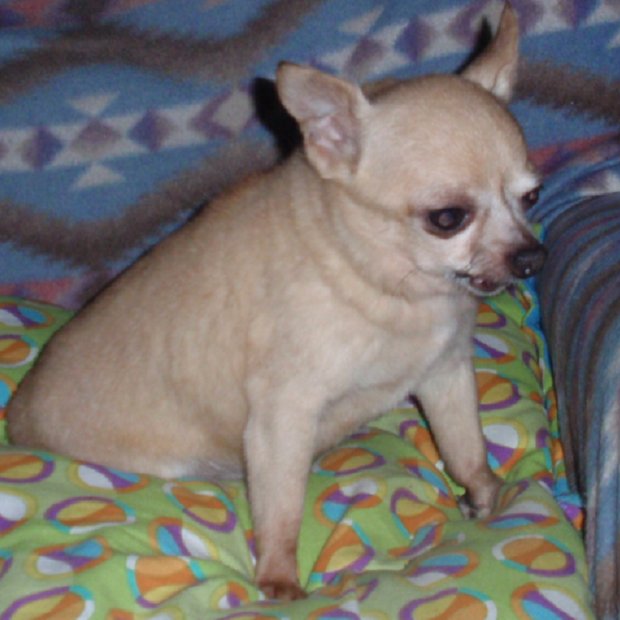 CHAMPION Wilderness Lambrigini

To soon the good are gone .........